The Ultimate Tire Traction Device That Works
On All Vehicle Types By Any Driver
In Snow, Ice, Mud, Sand and Wet Grass.
What Is The Portable Tow Truck Tire Traction Mat?
THE PORTABLE TOW TRUCK IS THE ULTIMATE TIRE TRACTION MAT THAT WAS ORIGINALLY DEVELOPED OUT OF NECESSITY TO SAVE TIME AND MONEY FOR PARCEL DELIVERY VEHICLES THAT GOT STUCK ON THE ROAD DUE TO ADVERSE WEATHER AND TERRAIN CONDITIONS.
EACH SET (AVAILABLE IN BLACK AND ORANGE) CONTAINS 2 TRACTION MATS (ONE FOR EACH SPINNING TIRE) THAT FIT IN THE TRUNK OF YOUR VEHICLE.
MADE FROM POLYPROPYLENE (WHICH AIDS IN BOTH STRENGTH AND FLEXIBILITY) AND WEIGHTING 2.5 LB. PER 36-INCH LONG MAT, 1 SET (5 LB.) OF THE PORTABLE TOW TRUCK GIVES YOU 2 SOLID, STABLE, VIRTUALLY INDESTRUCTIBLE TRACTION MATS THAT WILL WORK ON ALMOST ANY VEHICLE THAT IS STUCK IN SNOW, SAND, OR MUD.
NOW, YOU HAVE THE TOOLS AND PEACE OF MIND THAT THE LARGEST PARCEL COMPANIES IN THE WORLD HAVE TO AVOID UNNECESSARY TOWING COSTS AND HEADACHES.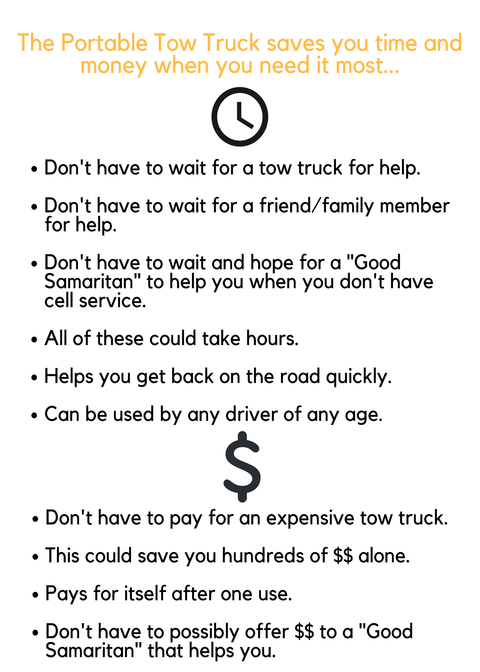 WHY USE THE PORTABLE TOW TRUCK TIRE TRACTION DEVICE?
TO HELP PROTECT YOU AND YOUR FAMILY OR FRIENDS FROM UNEXPECTED ROADSIDE EMERGENCIES LIKE GETTING YOUR VEHICLE STUCK IN SNOW, ICE, MUD OR SAND.

TO HELP SAVE TIME AND MONEY FROM HAVING TO CALL AND WAIT FOR AN EXPENSIVE TOW TRUCK TO PULL YOU OUT OF A STICKY SITUATION WHICH CAN SAVE YOU HUNDREDS OF DOLLARS.
TO HELP GIVE YOU AND YOUR FAMILY OR FRIENDS PIECE OF MIND WHILE DRIVING.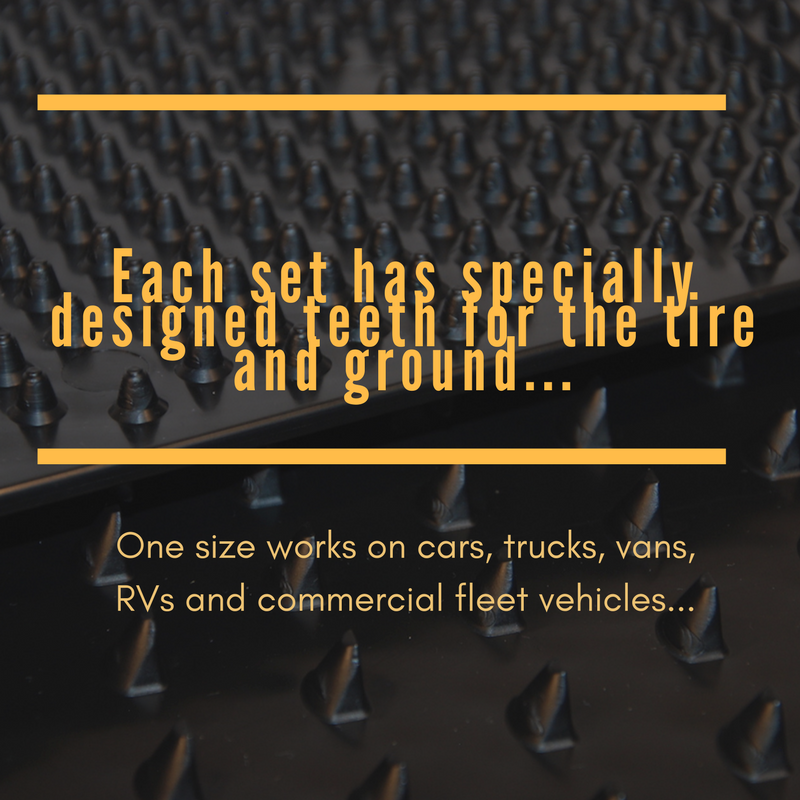 NOW YOU CAN MAKE YOUR OWN ROAD WITH THE BEST TIRE TRACTION AID TO GET YOUR CAR, TRUCK, VAN, RV OR COMMERCIAL FLEET VEHICLE UNSTUCK IN BAD TERRAIN OR WEATHER.
Benefits of The Portable Tow Truck…
Affordable – Discount pricing available on bulk quantities for fleet accounts and resellers. (Please contact us for discount pricing on bulk orders.)
Reliable – Tested and proven snow chain or tire chain alternative used by the largest parcel delivery companies in the world.
Portable – Easily fits in the trunk of your vehicle or behind a seat.
Durable – Able to be used over and over, the mats are virtually indestructible and made from high strength polypropylene.
Dependable – Works great on RV's, Car's, Truck's, Van's, and Fleet vehicles.
Hassle free – Saves time, money, and headaches and gives you peace of mind while traveling.
Money saver – The Portable Tow Truck pays for itself after one use.
Works great while camping, mudding, off-roading, and during emergency situations if your car or vehicle gets stuck.
Easy to use –  Lightweight and can be used easily and safely by a man or woman.
A must have – Just like a spare tire and jack, The Portable Tow Truck should be in every vehicle.
"I was at a weekend RV outing event this past summer. I saw three RV's, one car, and one truck get stuck due to excessive rain and mud that weekend. A guy had several sets of these with him in his RV and he actually used them on all three RV's, the car and truck to get unstuck. I was shocked the product worked so well. Based on the price these are a must in my opinion." 5 out of 5 stars
Cathy C.
"Just as described! Have had to use them twice this winter, just a few days after receiving them. They worked just as they were told they would! We were so impressed, we plan on getting a set for our sons truck. As well as a few other family members are being advised of their quality and highly suggested to purchase!! AAA+++" 5 out 5 stars
Amy-Lynn B.
"Love it!! Two days after we received it, we got our truck stuck in deep gravel, at an angle, up against some shrubbery. The more we tried to get unstuck, the more stuck we became. We placed the Portable Tow Truck under the outside rear wheel and BINGO!! The truck backed out with no problem at all. It saved us a big towing bill!!! Great product. A peace of mind that's very easy to carry around. I highly recommend it. A big fan"
Melinda C.
"We have a 15,000 lb RV. When we were taking it out of winter storage, it came off the pad and promptly got stuck in the mud. My wife found your product on Amazon and suggested we try it. Since the RV has dual tires on each side, I thought it best that we get two sets so we could put one mat under each of the rear wheels. Attached are a couple of pictures of the mats after we finished today. Not very pretty, but they got the job done. I'll hit them with the hose and they'll be fine. To say the least, we were more than pleased. They are now part of the RV emergency kit for the summer, and they'll be in the back of the cars in the winter."
Bill H.
Learn…
Instructions… (You can also view our videos to see The Portable Tow Truck in action)
If the vehicle will rock back and forth, rock backwards as far as possible.
Put the vehicle in park and apply the parking brake.
One end of The Portable Tow Truck is labeled "This side up". The other end is lodged between the tire and ground which has barbs that are specially designed to engage the tire.
Wedge this end in front of the tire between the tire and the ground. (If only one wheel is stuck, only one Portable Tow Truck in needed)
Release the parking brake and SLOWLY accelerate.
CAUTION: Do not stand behind or in front of the vehicle when using The Portable Tow Truck. Serious Injury could occur.
HELPFUL HINT: If you want The Portable Tow Truck to be towed behind you to a more convenient stopping place, attach a small nylon rope to The Portable Tow Truck through existing holes and to the trailer hitch on the vehicle or another area.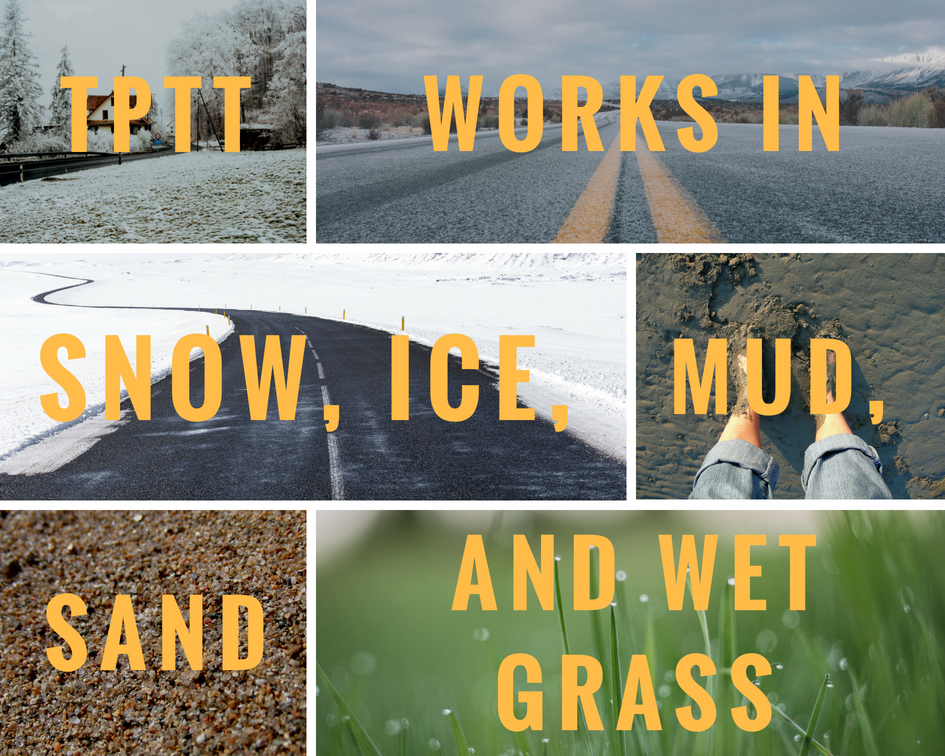 Learn how to pull a boat out of the water the safe and proper way… Many new boaters may have questions on how to properly
Read More »
Shop…
Each set contains 2 tire traction mats that are 36″ long by 8.25″ wide.  Each mat is lightweight (on 2.5lbs per mat) and can be easily used by any driver on any vehicle – cars, trucks, vans, SUVs, RVs and commercial fleet vehicles.